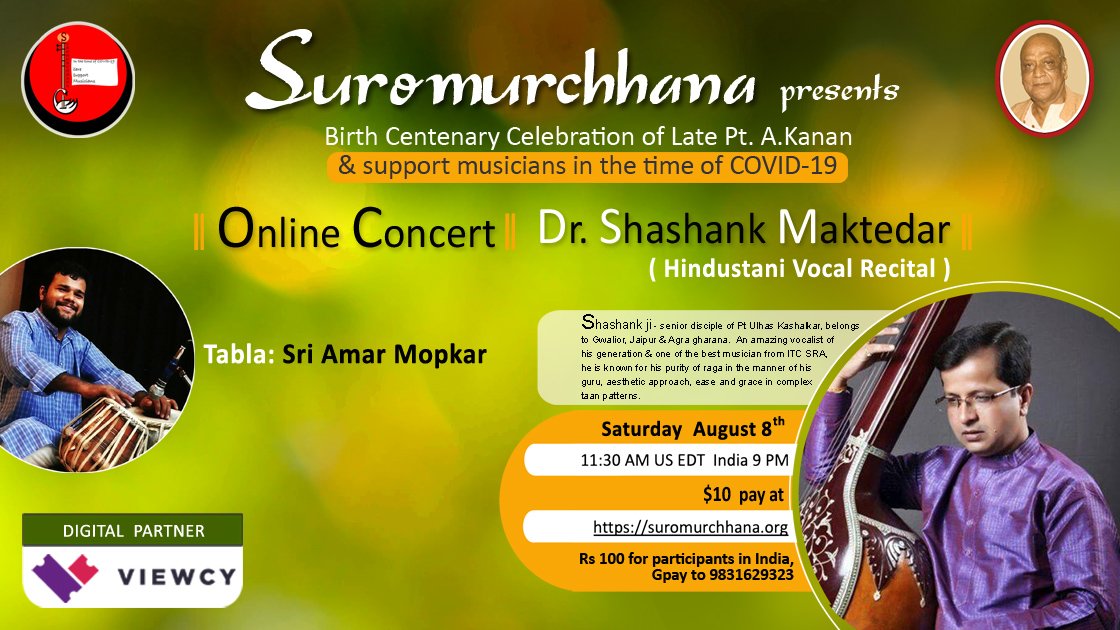 Day and Time
Sat, 08 August 2020
11:30AM - 01:00PM (EDT)
Description
Suromurchhana celebrates Birth Centenary of Late Pt. A. Kanan
with Dr. Shashank Maktedar, vocalist and Sri Amar Mopkar on tabla.
Dr. Maktedar is a senior disciple of Pt Ulhas Kashalkar, belongs to Gwalior, Jaipur and Agra gharanas. He is regarded as the unmatched vocalist of his generation, known for his purity of raga in the manner of his guru, aesthetic approach, ease and grace in all three octaves and complex taan patterns.
Event is also sponsored by Viewcy
Day and Time
Sat, 08 August 2020
11:30AM - 01:00PM (EDT)
Sponsors
Viewcy is a proud sponsor for this event. We support artists and organizations with tools for hosting and monetizing events. We also support events with sponsorships. Please give generously to this amazing organization. All the money from donations goes to Suromurchhana.
❤️Viewcy is adding 10% to all donations for this event. Give generously. ❤️
Organizer
Suromurchhana