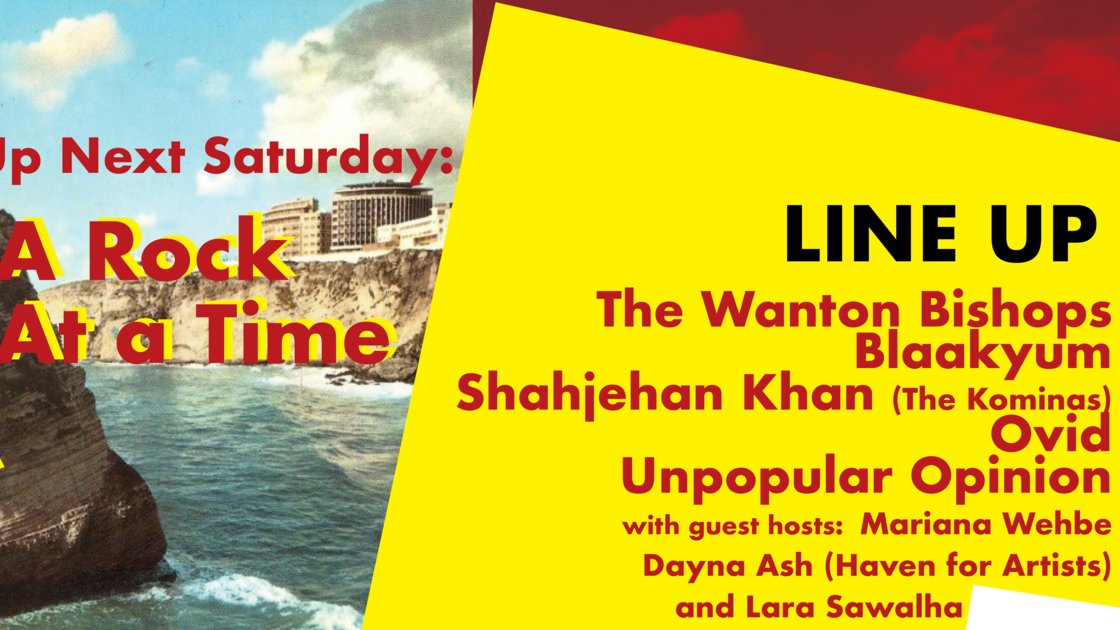 Day and Time
Sat, 19 September 2020
02:00PM - 04:00PM (EDT)
Description
A Rock At a Time is the third concert in our four part series for the Rebuild Beirut Benefit. This concert will be a showcase of rock, punk, and metal artists from Beirut and around the world.
This 3rd concert comes after two successful first shows, Beirut Calling & Maqam Beirut, where we raised $7500 for the organizations and initiatives we're supporting. The series will continue for the remaining two weekends in September and will spotlight and showcase Lebanese, Arab, and Arab & MENA diaspora artists mixed with popular artists from around the world. The event will be a telethon style fundraiser featuring rotating hosts giving important context and background, making appeals for giving, and introducing the artists. The goals of the event are to raise funds for organizations and initiatives doing immediate as well as longer term work to help Beirut and Lebanon rebuild and recover (particularly for marginalized groups like the LGBTQ community, migrant workers, and refugees living in Lebanon), to make the benefit a space for sharing info and connecting with resources on the ground, and to help create a community that lives beyond the events for artists, musicians, and creators in Beirut to collaborate.
We have an amazing line-up of artists, passionate about sharing their work to support the city they love.
- The Wanton Bishops (Beirut)
- Blaakyum (Beirut)
- Shahjehan Kahn (of The Kominas/NYC)
- Ovid (Beirut)
- Unpopular Opinion (CA)
- With guest hosts: Mariana Wahbe and Dayna Ash (Haven for Artists)
Funds raised from the benefit will be distributed between larger relief organizations in Lebanon, small to medium sized NGOs in Lebanon, and hyper local and direct giving initiatives, with a 20 - 40 - 40 split between these groups. Part of our mission in funding raising is to gather funds for organizations and groups that might fall through the cracks in other relief efforts in Lebanon such as the LGBTQ community, migrant workers, and individual businesses. The larger Lebanese relief organizations will be the Lebanese Red Cross and Lebanese Food Bank, small and medium sized NGOs will be FoodBlessed, Baytna Baytak, Basmeh & Zeitooneh, the Anti-Racism Movement/Migrant Community Center, and Helem and direct giving initiatives will be This is Lebanon's Send Us Home Fund and the Fund for Vulnerable LGBT in Beirut (links to all these organizations and initiatives can be found on the "Giving" page of the website).
To find out more, find places to give, ways to volunteer, or connect with resources please visit our website www.rebuildbeirutbenefit.com
Day and Time
Sat, 19 September 2020
02:00PM - 04:00PM (EDT)
Sponsors
Viewcy is a proud sponsor of this event.🌙 We are a ticketing platform and virtual event space, by artists, for artists. Welcoming you at www.viewcy.com
Viewcy is adding 10% to the first $2000 donated to this Rebuild Beirut event. Give freely! ❤️
Organizer

Will Thomson

jess vogel

REBUILD BEIRUT