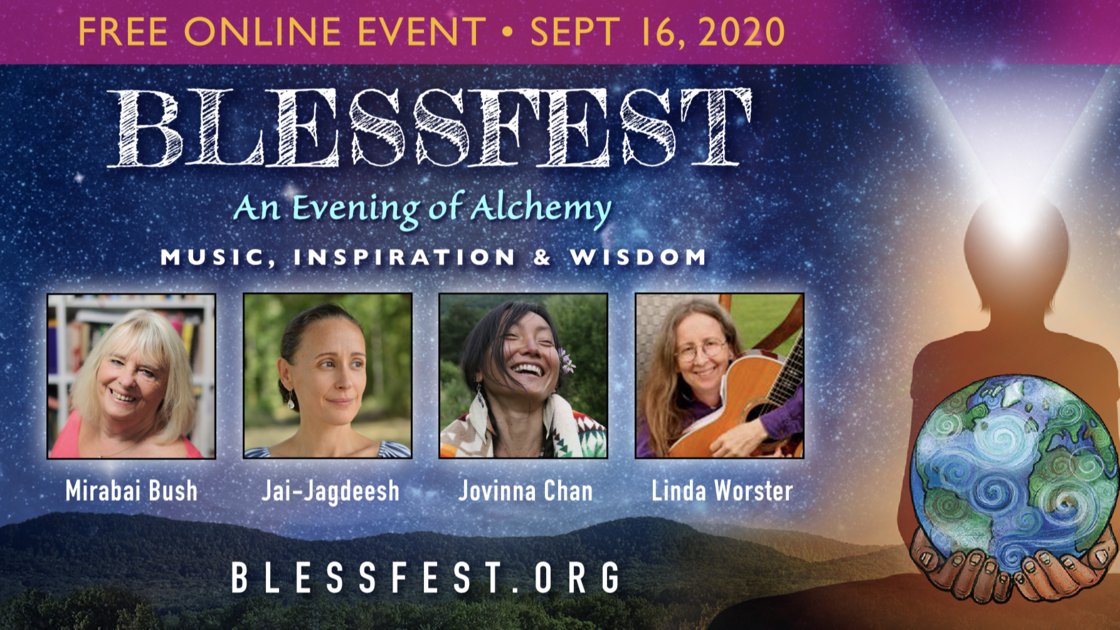 Day and Time
Wed, 16 September 2020
05:00PM - 09:00PM (EDT)
Description
In these stressful and uncertain times we need more than ever the alchemy of sacred arts and wisdom to keep us buoyant and renewed.
BlessFest presents four amazing women offering their gifts of music, wisdom and love. Join BlessFest for this free donation-based event benefiting these artists as well as raising money for Gwen's Girls. Take any part of four hours on Wednesday night, September 16th to relax, unwind, be inspired, and recharge your mind and body.
We begin with a wonderful gentle restorative yoga class by Jovinna Chan followed by the beautiful heart-touching songs of Linda Worster. We then hear a talk by Ramdass co-author Mirabai Bush who will share how we keep our heart open during challenging times followed by a brief Q and A. This evening will close with wonderful and powerful singing and chanting of Jai-jagdeesh.oin BlessFest for a free online, donation based event of Yoga, Music, Dharma Talks, Chanting and more with an amazing group of presenters. Mirabai Bush, Jai-Jagadeesh, Jovinna Chan and Linda worster will guide us through a heart opening and enchanted evening of wisdom, insight, gentle restorative yoga, music and chanting.
Money raised from this event will go directly to support the presenters as well as "Gwen's Girls" which is an organization for the past 18 that has been helping support young African American girls in the Pittsburgh PA. area get access to services and support they need need to survive and thrive.
An Evening Of Alchemy
SCHEDULE 5:30 ~ 9:15 PM EST
5:30–5:40pm — Opening Welcome
5:40–6:25pm — Jovinna Chan, Gentle / Restorative Yoga
Join phenomenal yoga teacher Jovinna for a slow and mindful yoga practice to restore the connection of breath, mind and body. Class is 45 minutes long. Gather yoga blocks (optional), a cushion and blanket for your practice.
6:30–7:00pm — Linda Worster, Music
Join Linda for her always incredible soulful offering of brilliant heart-opening songs. Her music and lyrics proclaim the joy and explore the struggle of inner discovery. They are alive with the vitality of her dedication to seeking and discovering the magic and the mysteries of life.
7:05– 7:15pm — Kathi Elliot, CEO of Gwen's Girls & Gwen Girls Video
Learn about the epic and important work Gwen's Girls is doing with young black girls in Pittsburgh, PA.
7:25 – 8:25 pm — Mirabai Bush, Co-author with Ram Dass "Walking Each other Home"
Discussion: Open-Hearted in Challenging Times.
In these difficult times, we can feel alone, separate, and longing for connection. We can learn to let go of fear and stress and invite the experience of interconnection by practicing compassion and love. When we live in loving awareness, we also naturally act in a way that heals the world around us.
8:30 –9:05 — Jai-Jagdeesh, Music / Chanting
Join this beloved sacred music artist for her incredible offering. Jai-Jagdeesh has a voice that is at once vulnerable and powerful, and her many songs are loved across the globe. Grounded by a practice of Kundalini Yoga, her singing comes from a deep well of raw emotion and profound devotion.

9:05 - 9:15 pm BlessFest Closing
Day and Time
Wed, 16 September 2020
05:00PM - 09:00PM (EDT)